Duo Vivo - String Duet for Events
Whether it is a wedding reception, anniversary, business dinner or a birthday party, we can provide the perfect music selection for your special occasion!

The wedding ceremony most requested pieces:
Canon in D (Pachelbel)
Trumpet Tune (Purcell)
Trumpet Voluntary (Clarke)
Jesu, Joy of Man's Desiring (Bach)
Ode to Joy (Beethoven)
Air on the G String (Bach)
Wedding March (Mendelssohn)
Wedding March (Wagner)
Ave Maria (Bach-Gounod)
Ave Maria (Schubert)
Ave Maria (Rubik)
Rondeau (Mouret)
Prelude from Te Deum (Charpentier)
La Rejouissance from Royal Fireworks Music (Handel)
Entrance of the Queen of Sheba (Handel)
Air from Water Music (Handel)
Bourree from Water Music (Handel)
Hornpipe from Water Music (Handel)
Sheep May Safely Graze (Bach)
Four Seasons (Vivaldi)
Meditation from Thais (Massenet)
Arioso (Bach)
Alleluia from Exsultate, Jubilate (Mozart)
Brandenburg Concerto #2 (Bach)
Brandenburg Concerto #3 (Bach)
Brandenburg Concert #5 (Bach)
Largo from Xerxes (Handel)
Litany (Schubert)
You Raise Me Up (Lovland/Graham)
From This Moment On (Lange/Thompson)
Surely the Presence of the Lord Is in This Place (Wolfe)
Come Thou Fount of Every Blessing (R.Robinson)
I Surrender All (W.Weeden)
The Prayer (Sager/Foster)
Ave Verum Corpus (Mozart)
St. Anthony Chorale (Brahms)
Panis Angelicus (Frank)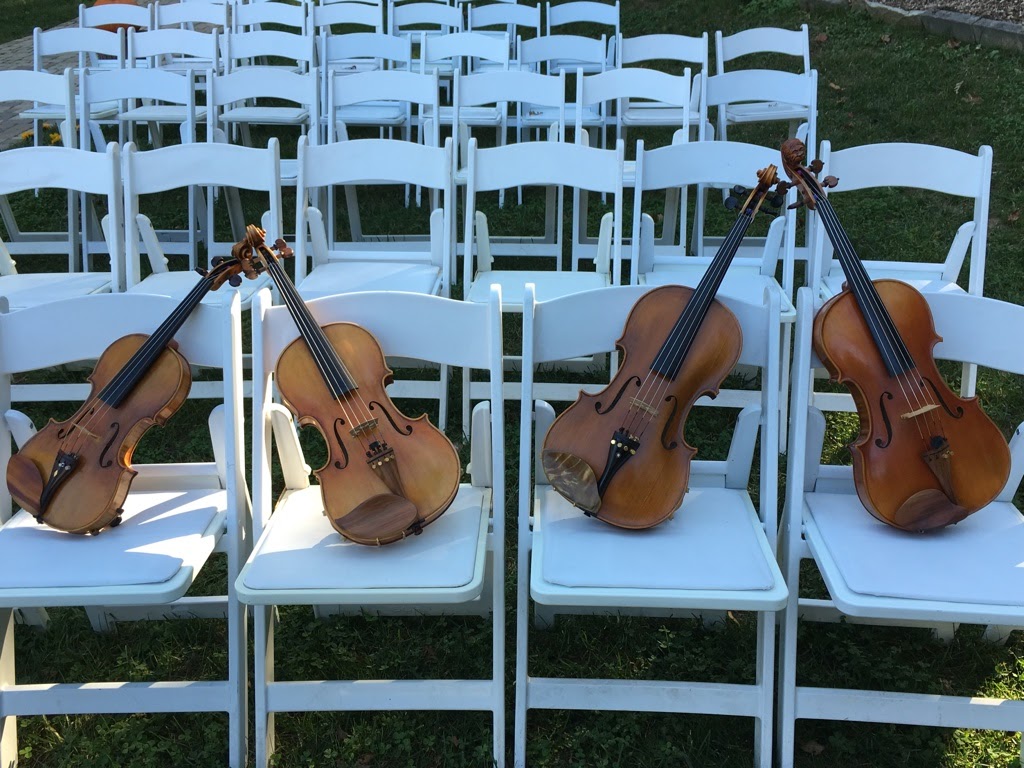 Irish Music:
The Lord of the Dance (Hardiman)
The Ludlows from Legends of The Fall (Horner)
Ashokan Farewell (Ungar) and more...

Selections from Fiddler on the Roof
Selections from West Side Story
Selections from Sound of Music
Selections from Polish folk music
Reception love songs, dances and light classical music selections:

Love Me Tender (Poulton/Presley)
Michelle (Lennon/McCartney)
Yesterday (Lennon/McCartney)
My Heart Will Go On (Horner)
Memory (Lloyd Webber)
The Music of the Night (Lloyd Webber)
Waves of the Danube (Ivanovici)
La Cumparsita Tango (Rodriguez)
La Spagnola (Di Chiara)
Artist's Life Waltz (Strauss)
Gold and Silver Waltz (Lehar)
Vilia (Lehar)
Besame Mucho - Kiss Me Much (Velazquez)
La Paloma (Yradier)
The Skaters Waltz (Waldteufel)
El Choclo Tango (Villoldo)
Ah! So Pure from Martha (Von Flotow)
Minuet (Boccherini)
Starlight (Vitamin String Quartet)
Cant Help Falling in Love (Weiss)
Can You Feel the Love Tonight (Elton John)
Viva La Vida (Martin)
Over the Rainbow (Arlen)
You Raise Me Up (Lovland/Graham)
From This Moment On (Lange/Thompson)
How Beautiful (Paris)
Hallelujah (Cohen)
O Mio Babbino Caro (Puccini)
Singing in the Rain (Brown)
Happy Birthday Variations
and more...